Paketti: mencal (3.0-2)
Links for mencal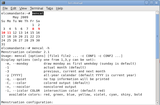 Debian-palvelut:
Imuroi lähdekoodipaketti mencal:
Ylläpitäjät:
External Resources:
Samankaltaisia paketteja:
menstruation calendar
Mencal is a menstruation calendar written in Perl.
It is a simple variation of the well-known Unix command cal. The main difference is that you can have some periodically repeating days highlighted in color. This can be used to track menstruation (or other) cycles conveniently.
Muut pakettiin mencal liittyvät paketit
dep:

perl

Larry Wallin kieli tekstitiedostojen analysointia ja raportointia varten
Imuroi mencal
Imurointi kaikille saataville arkkitehtuureille

| Arkkitehtuuri | Paketin koko | Koko asennettuna | Tiedostot |
| --- | --- | --- | --- |
| all | 13.6 kt | 53.0 kt | [tiedostoluettelo] |