Paketti: kupfer (0+v208-6)
Links for kupfer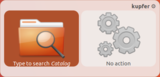 Debian-palvelut:
Imuroi lähdekoodipaketti kupfer:
Ylläpitäjät:
External Resources:
Samankaltaisia paketteja:
fast and lightweight desktop summoner/launcher
Kupfer is a summoner/launcher in the style of Quicksilver or GNOME Do. It can search and browse your files, launch desired applications and object you need in a quicker way.
Kupfer is written in Python and has a flexible architecture based on plugins to extend its features.
Muut pakettiin kupfer liittyvät paketit
Imuroi kupfer
Imurointi kaikille saataville arkkitehtuureille

| Arkkitehtuuri | Paketin koko | Koko asennettuna | Tiedostot |
| --- | --- | --- | --- |
| all | 525.2 kt | 2,767.0 kt | [tiedostoluettelo] |