Paketti: gnugk (2:3.6-1 ja muut)
Links for gnugk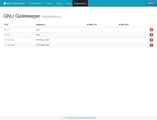 Debian-palvelut:
Imuroi lähdekoodipaketti gnugk:
Ylläpitäjät:
External Resources:
Samankaltaisia paketteja:
OpenH323 Gatekeeper - The GNU Gatekeeper
GNU Gatekeeper is an open-source project that implements an H.323 gatekeeper. A gatekeeper provides call control services to the H.323 endpoints. It is an integral part of most useful internet telephony installations that are based on the H.323 standard.
According to Recommendation H.323, a gatekeeper shall provide the following services:

 Address Translation
 Admissions Control
 Bandwidth Control
 Zone Management
 Call Control Signaling
 Call Authorization
 Bandwidth Management
 Call Management

The GNU Gatekeeper implements most of these functions based on the OpenH323 protocol stack.
Muut pakettiin gnugk liittyvät paketit
sug:

ekiga

H.323 and SIP compatible VoIP client

sug:

ohphone

Paketti ei saatavilla

sug:

ohphone-basic

Paketti ei saatavilla

sug:

simph323

Paketti ei saatavilla
Imuroi gnugk
Imurointi kaikille saataville arkkitehtuureille

| Arkkitehtuuri | Versio | Paketin koko | Koko asennettuna | Tiedostot |
| --- | --- | --- | --- | --- |
| amd64 | 2:3.6-1+b4 | 1,165.3 kt | 3,354.0 kt | [tiedostoluettelo] |
| arm64 | 2:3.6-1+b4 | 1,078.8 kt | 3,299.0 kt | [tiedostoluettelo] |
| armel | 2:3.6-1+b4 | 1,034.9 kt | 2,736.0 kt | [tiedostoluettelo] |
| armhf | 2:3.6-1+b4 | 1,045.4 kt | 2,332.0 kt | [tiedostoluettelo] |
| i386 | 2:3.6-1+b4 | 1,214.4 kt | 3,152.0 kt | [tiedostoluettelo] |
| mips | 2:3.6-1+b4 | 1,113.0 kt | 3,880.0 kt | [tiedostoluettelo] |
| mips64el | 2:3.6-1+b4 | 1,124.0 kt | 4,268.0 kt | [tiedostoluettelo] |
| mipsel | 2:3.6-1+b4 | 1,128.6 kt | 3,880.0 kt | [tiedostoluettelo] |
| ppc64el | 2:3.6-1+b4 | 1,113.5 kt | 3,666.0 kt | [tiedostoluettelo] |
| s390x | 2:3.6-1+b4 | 1,094.1 kt | 3,474.0 kt | [tiedostoluettelo] |