Paketti: javamorph (0.0.20100201-1)
Links for javamorph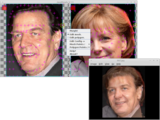 Debian-palvelut:
Imuroi lähdekoodipaketti javamorph:
Ylläpitäjät:
External Resources:
Samankaltaisia paketteja:
Java morphing film-make program for pixel picture-input
Give two human-face pictures as inputs into the program. Then mark important locations whithin both faces by pairs of corresponding points. The program will create a short enumerated picture series in which the left face moves (morphs) into the right one. You can then create a MPEG (see mencoder) from the picture series. An animated GIF (see GIMP) is also possible.
Muut pakettiin javamorph liittyvät paketit
dep:

doc-base

utilities to manage online documentation

dep:

gcj

The GNU Java compiler (transitional package)

tai openjdk-6-jre

OpenJDK Java runtime, using Hotspot JIT

tai sun-java6-jre

Sun Java(TM) Runtime Environment (JRE) 6 (architecture independent files)
Imuroi javamorph
Imurointi kaikille saataville arkkitehtuureille

| Arkkitehtuuri | Paketin koko | Koko asennettuna | Tiedostot |
| --- | --- | --- | --- |
| all | 945.9 kt | 1,060.0 kt | [tiedostoluettelo] |