Paketti: castle-combat (0.8.1.dfsg.1-3)
Links for castle-combat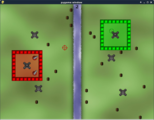 Debian-palvelut:
Ylläpitäjä:
External Resources:
Samankaltaisia paketteja:
game where the player builds one castle and destroys others
A clone of the old DOS game Rampart. Up to four players (or more in future versions) build castle walls, place cannons inside these walls, and shoot at the walls of their enemy(s). If a player can't complete a wall around any castle, the player loses. The last surviving player wins.
Muut pakettiin castle-combat liittyvät paketit
Imuroi castle-combat
Imurointi kaikille saataville arkkitehtuureille

| Arkkitehtuuri | Paketin koko | Koko asennettuna | Tiedostot |
| --- | --- | --- | --- |
| all | 1,647.6 kt | 2,776.0 kt | [tiedostoluettelo] |