Paketti: blast (1.1-22)
Links for blast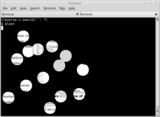 Debian-palvelut:
Imuroi lähdekoodipaketti blast:
Ylläpitäjä:
Samankaltaisia paketteja:
Blow holes in window of programs
Blast lets you vent your frustration with programs by blowing holes in them. With this program you can blast holes into any window in X. Holes become permanent unless you repair them before you quit. You may move permanently "damaged" windows and enjoy the view behind the holes.
Muut pakettiin blast liittyvät paketit
dep:

libc6 (>= 2.6)

Sulautettu GNU C -kirjasto: jaetut kirjastot
myös näennäispaketti, jonka toteuttaa libc6-udeb

dep:

libx11-6

X11 client-side library

dep:

libxext6

X11 miscellaneous extension library
Imuroi blast
Imurointi kaikille saataville arkkitehtuureille

| Arkkitehtuuri | Paketin koko | Koko asennettuna | Tiedostot |
| --- | --- | --- | --- |
| sparc | 9.1 kt | 76.0 kt | [tiedostoluettelo] |