Paketti: typespeed (0.6.5-1.1)
Links for typespeed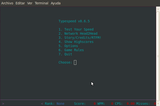 Debian-palvelut:
Imuroi lähdekoodipaketti typespeed:
Ylläpitäjä:
External Resources:
Samankaltaisia paketteja:
Zap words flying across the screen by typing them correctly
Typespeed is a game in which words fly across your screen. Your task is to zap the words by typing them before they cross the screen. If too many words get by you, the game is over.
Muut pakettiin typespeed liittyvät paketit
dep:

fileutils (>= 4.0-5)

Paketti ei saatavilla

tai coreutils (>> 5)

GNU:n perusapuohjelmat

dep:

libc6 (>= 2.4)

Sulautettu GNU C -kirjasto: jaetut kirjastot
myös näennäispaketti, jonka toteuttaa libc6-udeb

dep:

libncurses5 (>= 5.7+20100313)

jaetut kirjastot päätteen hallintaan
Imuroi typespeed
Imurointi kaikille saataville arkkitehtuureille

| Arkkitehtuuri | Paketin koko | Koko asennettuna | Tiedostot |
| --- | --- | --- | --- |
| s390 | 76.8 kt | 340.0 kt | [tiedostoluettelo] |