Paketti: sniffit (0.3.7.beta-15)
Links for sniffit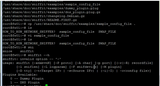 Debian-palvelut:
Imuroi lähdekoodipaketti sniffit:
Ylläpitäjä:
External Resources:
Samankaltaisia paketteja:
packet sniffer and monitoring tool
sniffit is a packet sniffer for TCP/UDP/ICMP packets. sniffit is able to give you very detailed technical info on these packets (SEC, ACK, TTL, Window, ...) but also packet contents in different formats (hex or plain text, etc. ).
Muut pakettiin sniffit liittyvät paketit
dep:

libc6 (>= 2.2)

Sulautettu GNU C -kirjasto: jaetut kirjastot
myös näennäispaketti, jonka toteuttaa libc6-udeb

dep:

libncurses5 (>= 5.6+20071006-3)

jaetut kirjastot päätteen hallintaan

dep:

libpcap0.8 (>= 0.9.8)

system interface for user-level packet capture
Imuroi sniffit
Imurointi kaikille saataville arkkitehtuureille

| Arkkitehtuuri | Paketin koko | Koko asennettuna | Tiedostot |
| --- | --- | --- | --- |
| mips | 58.6 kt | 176.0 kt | [tiedostoluettelo] |