Paketti: paris-traceroute (0.92-dev-2)
Links for paris-traceroute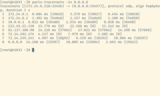 Debian-palvelut:
Ylläpitäjä:
External Resources:
Samankaltaisia paketteja:
New version of well known tool traceroute
Paris-traceroute is a new version of the well known traceroute. It addresses problems caused by load balancers with the initial implementation of traceroute. By controling packet, header contents, it obtains a more precise picture of the actual route that packets follow. .
Muut pakettiin paris-traceroute liittyvät paketit
dep:

libc6 (>= 2.7-1)

Sulautettu GNU C -kirjasto: jaetut kirjastot
myös näennäispaketti, jonka toteuttaa libc6-udeb

dep:

libgcc1 (>= 1:4.1.1)

GCC:n apukirjasto

dep:

libstdc++6 (>= 4.1.1)

GNU Standard C++ -kirjasto, versio 3
Imuroi paris-traceroute
Imurointi kaikille saataville arkkitehtuureille

| Arkkitehtuuri | Paketin koko | Koko asennettuna | Tiedostot |
| --- | --- | --- | --- |
| mips | 57.7 kt | 236.0 kt | [tiedostoluettelo] |