Paketti: notmuch (0.3.1+squeeze1)
Links for notmuch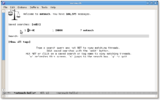 Debian-palvelut:
Imuroi lähdekoodipaketti notmuch:
Ylläpitäjät:
External Resources:
Samankaltaisia paketteja:
thread-based email index, search and tagging
Notmuch is a system for indexing, searching, reading, and tagging large collections of email messages in maildir or mh format. It uses the Xapian library to provide fast, full-text search with a very convenient search syntax.
This package contains the notmuch command-line interface as well as emacs and vim interfaces for notmuch.
Muut pakettiin notmuch liittyvät paketit
Imuroi notmuch
Imurointi kaikille saataville arkkitehtuureille

| Arkkitehtuuri | Paketin koko | Koko asennettuna | Tiedostot |
| --- | --- | --- | --- |
| mips | 88.2 kt | 484.0 kt | [tiedostoluettelo] |