Paketti: mauve (20090924-1)
Links for mauve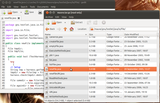 Debian-palvelut:
Imuroi lähdekoodipaketti mauve:
Ylläpitäjät:
Samankaltaisia paketteja:
free test suite for the Java Class libraries
Mauve is intended to test several different varieties of the libraries. For instance, it will contain tests that are specific to a particular JDK version. Tags in the test files help the test framework decide which tests should or should not be run against a given runtime.
Muut pakettiin mauve liittyvät paketit
Imuroi mauve
Imurointi kaikille saataville arkkitehtuureille

| Arkkitehtuuri | Paketin koko | Koko asennettuna | Tiedostot |
| --- | --- | --- | --- |
| all | 2,565.0 kt | 2,652.0 kt | [tiedostoluettelo] |