Paketti: gav (0.9.0-3)
Links for gav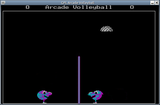 Debian-palvelut:
Imuroi lähdekoodipaketti gav:
Ylläpitäjä:
External Resources:
Samankaltaisia paketteja:
GPL Arcade Volleyball
GAV stands for GPL Arcade Volleyball, and is an SDL remake of the old DOS game Arcade Volleyball. It includes multiplayer, networking, and themeable graphics support.
More information, as well as additional themes, can be found at <http://gav.sourceforge.net>.
Muut pakettiin gav liittyvät paketit
rec:

gav-themes

Extra themes for GPL Arcade Volleyball
Imuroi gav
Imurointi kaikille saataville arkkitehtuureille

| Arkkitehtuuri | Paketin koko | Koko asennettuna | Tiedostot |
| --- | --- | --- | --- |
| mips | 134.0 kt | 416.0 kt | [tiedostoluettelo] |