[ squeeze ]
Paketti: kazehakase (0.5.8-4)
Links for kazehakase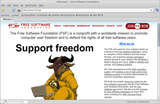 Debian-palvelut:
Imuroi lähdekoodipaketti kazehakase:
Ylläpitäjä:
External Resources:
Samankaltaisia paketteja:
GTK+-based web browser that allows pluggable rendering engines
Kazehakase is a web browser that can use either Gecko or WebKit as its rendering engine.
Kazehakase has a toolbar with rss/rdf menus, rss/rdf viewer, normal bookmarks, search window for google. These are to be available as plugins.
Muut pakettiin kazehakase liittyvät paketit
Imuroi kazehakase
Imurointi kaikille saataville arkkitehtuureille

| Arkkitehtuuri | Paketin koko | Koko asennettuna | Tiedostot |
| --- | --- | --- | --- |
| amd64 | 733.3 kt | 2,080.0 kt | [tiedostoluettelo] |
| armel | 680.8 kt | 1,884.0 kt | [tiedostoluettelo] |
| i386 | 692.2 kt | 1,952.0 kt | [tiedostoluettelo] |
| ia64 | 862.7 kt | 3,108.0 kt | [tiedostoluettelo] |
| kfreebsd-amd64 | 733.2 kt | 1,836.0 kt | [tiedostoluettelo] |
| kfreebsd-i386 | 692.6 kt | 1,718.0 kt | [tiedostoluettelo] |
| mips | 664.1 kt | 2,280.0 kt | [tiedostoluettelo] |
| mipsel | 659.5 kt | 2,280.0 kt | [tiedostoluettelo] |
| powerpc | 738.6 kt | 2,220.0 kt | [tiedostoluettelo] |
| s390 | 735.2 kt | 2,148.0 kt | [tiedostoluettelo] |
| sparc | 702.7 kt | 2,036.0 kt | [tiedostoluettelo] |