Paketti: isoquery (1.4-1)
Links for isoquery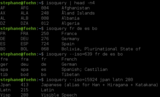 Debian-palvelut:
Imuroi lähdekoodipaketti isoquery:
Ylläpitäjä:
Samankaltaisia paketteja:
Search and display various ISO codes (country, language, ...)
This program can be used to generate a tabular output of the ISO standard codes provided by the package iso-codes.
It parses the XML files and shows all included ISO codes or just matching entries, if specified on the command line.
Moreover, it's possible to get all available translations for the ISO standard.
Muut pakettiin isoquery liittyvät paketit
dep:

python

interactive high-level object-oriented language (default version)

dep:

python-lxml

pythonic binding for the libxml2 and libxslt libraries

dep:

python-support (>= 0.90.0)

automaattinen uudelleenkäännöstuki Python-moduuleille
rec:

iso-codes

ISO language, territory, currency, script codes and their translations
Imuroi isoquery
Imurointi kaikille saataville arkkitehtuureille

| Arkkitehtuuri | Paketin koko | Koko asennettuna | Tiedostot |
| --- | --- | --- | --- |
| all | 27.3 kt | 292.0 kt | [tiedostoluettelo] |