Paketti: rrootage (0.23a-9)
Links for rrootage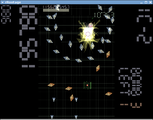 Debian-palvelut:
Imuroi lähdekoodipaketti rrootage:
Ylläpitäjät:
External Resources:
Samankaltaisia paketteja:
arcade-style space shooting game
rRootage is an arcade-style vertical shooting game, with music to match. Avoid the barrage of bullets and destroy the enemy's battle ship with your laser. rRootage has 40 levels, each playable in four different modes.
rRootage was created by Kenta Cho.
Muut pakettiin rrootage liittyvät paketit
Imuroi rrootage
Imurointi kaikille saataville arkkitehtuureille

| Arkkitehtuuri | Paketin koko | Koko asennettuna | Tiedostot |
| --- | --- | --- | --- |
| armel | 43.2 kt | 160.0 kt | [tiedostoluettelo] |