[ squeeze ]
Paketti: kanjisaver (0.9.10-1)
Links for kanjisaver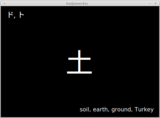 Debian-palvelut:
Imuroi lähdekoodipaketti kanjisaver:
Ylläpitäjä:
Samankaltaisia paketteja:
Japanese kanji screensaver
Kanjisaver is a screensaver that displays characters from a set of those commonly found on the JLPT, the Japanese Language Proficiency Test. It can also display the on and kun readings of the kanji as well as their English meaning.
You should install a font with Japanese character support before using Kanjisaver.
Muut pakettiin kanjisaver liittyvät paketit
rec:

ttf-arphic-uming

"AR PL UMing" Chinese Unicode TrueType font collection Mingti style
Imuroi kanjisaver
Imurointi kaikille saataville arkkitehtuureille

| Arkkitehtuuri | Paketin koko | Koko asennettuna | Tiedostot |
| --- | --- | --- | --- |
| armel | 92.1 kt | 304.0 kt | [tiedostoluettelo] |