[ squeeze ]
Paketti: xpenguins-applet (2.1.1-8)
Links for xpenguins-applet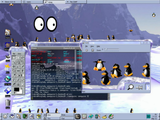 Debian-palvelut:
Ylläpitäjä:
External Resources:
Samankaltaisia paketteja:
GNOME2 panel applet implementation of xpenguins
This program is a GNOME2 panel applet that animates a friendly family of penguins in your root window. They drop in from the top of the screen, walk along the tops of your windows, up the side of your windows, levitate, skateboard, and do other similarly exciting things. XPenguins is now themeable so if you're bored of penguins, try something else. The basic themes are provided by the xpenguins package (this is the xpenguins-applet package), so you'll have to install that before xpenguins-applet will work.
Muut pakettiin xpenguins-applet liittyvät paketit
Imuroi xpenguins-applet
Imurointi kaikille saataville arkkitehtuureille

| Arkkitehtuuri | Paketin koko | Koko asennettuna | Tiedostot |
| --- | --- | --- | --- |
| amd64 | 114.9 kt | 428.0 kt | [tiedostoluettelo] |