Paketti: phpwebcounter (1.0-1)
Links for phpwebcounter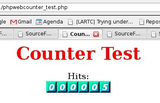 Debian-palvelut:
Ylläpitäjä:
External Resources:
Samankaltaisia paketteja:
simple and light web hit counter
PHP script to show the number of hits in web pages using ASCII text or PNG images. You can use your custom PNG images. PHP Web Counter is a very easy-to-configure application.
It isn't a CGI program and don't require special things to work.
Demo site: http://phpwebcounter.sf.net
Muut pakettiin phpwebcounter liittyvät paketit
dep:

php5

server-side, HTML-embedded scripting language (metapackage)
Imuroi phpwebcounter
Imurointi kaikille saataville arkkitehtuureille

| Arkkitehtuuri | Paketin koko | Koko asennettuna | Tiedostot |
| --- | --- | --- | --- |
| all | 20.2 kt | 188.0 kt | [tiedostoluettelo] |