Paketti: pktstat (1.8.4-5)
Links for pktstat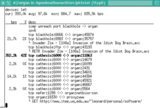 Debian-palvelut:
Imuroi lähdekoodipaketti pktstat:
Ylläpitäjä:
External Resources:
Samankaltaisia paketteja:
top-like utility for network connections usage
pktstat displays a real-time list of active connections seen on a network interface, and how much bandwidth is being used by what.
It partially decodes HTTP and FTP protocols to show what filename is being transferred, as well as X11 application names. Entries hang around on the screen for a few seconds so you can see what just happened.
It also accepts BPF expressions.
Muut pakettiin pktstat liittyvät paketit
dep:

libc6 (>= 2.7)

Sulautettu GNU C -kirjasto: jaetut kirjastot
myös näennäispaketti, jonka toteuttaa libc6-udeb

dep:

libncurses5 (>= 5.7+20100313)

jaetut kirjastot päätteen hallintaan

dep:

libpcap0.8 (>= 0.9.8)

system interface for user-level packet capture
Imuroi pktstat
Imurointi kaikille saataville arkkitehtuureille

| Arkkitehtuuri | Paketin koko | Koko asennettuna | Tiedostot |
| --- | --- | --- | --- |
| amd64 | 29.2 kt | 116.0 kt | [tiedostoluettelo] |