Paketti: kgpg (4:4.4.5-1+squeeze1)
Links for kgpg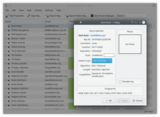 Debian-palvelut:
Imuroi lähdekoodipaketti kdeutils:
Ylläpitäjät:
External Resources:
Samankaltaisia paketteja:
graphical front end for GNU Privacy Guard
Kgpg manages cryptographic keys for the GNU Privacy Guard, and can encrypt, decrypt, sign, and verify files. It features a simple editor for applying cryptography to short pieces of text, and can also quickly apply cryptography to the contents of the clipboard.
This package is part of the KDE utilities module.
Muut pakettiin kgpg liittyvät paketit
Imuroi kgpg
Imurointi kaikille saataville arkkitehtuureille

| Arkkitehtuuri | Paketin koko | Koko asennettuna | Tiedostot |
| --- | --- | --- | --- |
| amd64 | 1,017.2 kt | 2,048.0 kt | [tiedostoluettelo] |