Paketti: pidgin-privacy-please (0.7.1-3) [debports]
Links for pidgin-privacy-please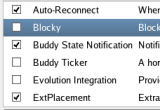 Debian-palvelut:
Imuroi lähdekoodipaketti :
Ei löytynyt
Ylläpitäjät:
External Resources:
Samankaltaisia paketteja:
plugin for enhanced privacy in pidgin
pidgin privacy please is a pidgin plugin to stop spammers from annoying you. You can block messages from certain users, block messages from people who are not on your contact list and suppress repeated authorization requests. Optionally, senders of blocked messages can be notified with an auto-reply.
Muut pakettiin pidgin-privacy-please liittyvät paketit
Imuroi pidgin-privacy-please
Imurointi kaikille saataville arkkitehtuureille

| Arkkitehtuuri | Paketin koko | Koko asennettuna | Tiedostot |
| --- | --- | --- | --- |
| riscv64 (epävirallinen siirros) | 16.0 kt | 63.0 kt | [tiedostoluettelo] |