Paketti: neutron-dhcp-agent (2:15.0.0-5)
Links for neutron-dhcp-agent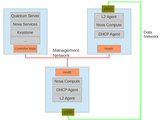 Debian-palvelut:
Imuroi lähdekoodipaketti neutron:
Ylläpitäjät:
External Resources:
Samankaltaisia paketteja:
OpenStack virtual network service - DHCP agent
Neutron provides an API to dynamically request and configure virtual networks. These networks connect "interfaces" from other OpenStack services (such as vNICs from Nova VMs). The Neutron API supports extensions to provide advanced network capabilities, including QoS, ACLs, and network monitoring.
This package provides the DHCP agent.
Muut pakettiin neutron-dhcp-agent liittyvät paketit
Imuroi neutron-dhcp-agent
Imurointi kaikille saataville arkkitehtuureille

| Arkkitehtuuri | Paketin koko | Koko asennettuna | Tiedostot |
| --- | --- | --- | --- |
| all | 24.8 kt | 82.0 kt | [tiedostoluettelo] |