Paketti: pykaraoke (0.7.5-1.2)
Links for pykaraoke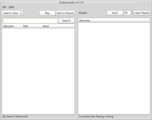 Debian-palvelut:
Imuroi lähdekoodipaketti pykaraoke:
Ylläpitäjät:
External Resources:
Samankaltaisia paketteja:
free CDG/MIDI/MPEG karaoke player
PyKaraoke is a free karaoke player. You can use this program to play your collection of CDG, MIDI and MPEG karaoke songs.
pykaraoke is a frontend for the pycdg and pympg karaoke players. It provides a search engine to find your songs, a file/folder browser to pick songs from disk, as well as a playlist.
Features:

   * CDG (MP3+G, OGG+G) playback - Play standard CDG karaoke files
   * MIDI (.MID/.KAR) playback - Play MIDI format karaoke files
   * MPEG playback - Play karaoke songs and movies in MPEG format
   * Playlist - Queue up songs, sit back and enjoy
   * Searchable song database - Easily find your songs from the main screen
   * Search inside ZIP files - Play MP3+G/MIDI files wrapped in ZIP files
   * Cross-platform - Runs on Windows and Linux

MIDI/KAR support on Linux, requires the following:

   * Timidity++
   * Sounds/patches for Timidity++ (e.g. freepats or eawpatches)

Muut pakettiin pykaraoke liittyvät paketit
sug:

python-numpy

Numerical Python adds a fast array facility to the Python language
Imuroi pykaraoke
Imurointi kaikille saataville arkkitehtuureille

| Arkkitehtuuri | Paketin koko | Koko asennettuna | Tiedostot |
| --- | --- | --- | --- |
| all | 70.8 kt | 117.0 kt | [tiedostoluettelo] |