Paketti: guake-indicator (1.4-1) [debports]
Links for guake-indicator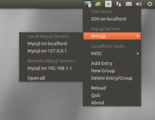 Debian-palvelut:
Imuroi lähdekoodipaketti :
Ei löytynyt
Ylläpitäjät:
External Resources:
Kotisivu [guake-indicator.ozzyboshi.com]
Samankaltaisia paketteja:
Guake terminal app indicator
Guake indicator lets you send custom commands through the D-Bus System. Commands can be manually edited in a XML file under ~/.guake.indicator or generated through guake-indicator edit-menu system GUI.
Guake-indicator sticks to your "System Tray" and displays your favorites commands retrieved from ~/.guake.indicator/guake-indicator.xml. If guake-indicator.xml does not exist, guake-indicator will create a default configuration file with some examples.
Muut pakettiin guake-indicator liittyvät paketit
Imuroi guake-indicator
Imurointi kaikille saataville arkkitehtuureille

| Arkkitehtuuri | Paketin koko | Koko asennettuna | Tiedostot |
| --- | --- | --- | --- |
| powerpcspe (epävirallinen siirros) | 81.1 kt | 317.0 kt | [tiedostoluettelo] |