Paketti: plasma-netbook (4:4.11.13-1) [debports]
Links for plasma-netbook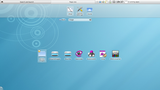 Debian-palvelut:
Imuroi lähdekoodipaketti :
Ei löytynyt
Ylläpitäjät:
External Resources:
Samankaltaisia paketteja:
KDE Plasma workspace for netbook computers
Provides the environment for running and managing applications and integrating interaction of applications. It is designed as generic environment for all kinds of applications in a netbook environment, not only applications built on the KDE Platform. It integrates best with applications following the standards used by the KDE Platform.
This package is part of the KDE base workspace module.
Muut pakettiin plasma-netbook liittyvät paketit
dep:

kde-runtime (>> 4:4.10)

runtime components from the official KDE release

dep:

kde-wallpapers-default

Paketti ei saatavilla

dep:

libc6 (>= 2.17)

GNU-C-kirjasto: jaetut kirjastot
myös näennäispaketti, jonka toteuttaa libc6-udeb

dep:

libkcmutils4 (>= 4:4.11)

utility classes for using KCM modules

dep:

libkdecore5 (>= 4:4.11)

KDE Platform Core Library

dep:

libkdeui5 (>= 4:4.11)

KDE Platform User Interface Library

dep:

libkephal4abi1 (= 4:4.11.13-1)

API for easier handling of multihead systems

dep:

libkio5 (>= 4:4.11)

Network-enabled File Management Library for the KDE Platform

dep:

libplasma3 (>= 4:4.11)

Plasma Library for the KDE Platform

dep:

libplasmagenericshell4 (= 4:4.11.13-1)

shared elements for all the plasma shells

dep:

libqt4-dbus (>= 4:4.5.3)

Qt 4 D-Bus module

dep:

libqt4-opengl (>= 4:4.5.3)

Qt 4 OpenGL module

dep:

libqt4-script (>= 4:4.5.3)

Qt 4 script module

dep:

libqtcore4 (>= 4:4.7.0~beta1)

Qt 4 core module

dep:

libqtgui4 (>= 4:4.6.2)

Qt 4 GUI module

dep:

libstdc++6 (>= 4.1.1)

GNU standardi C++ -kirjasto, versio 3

dep:

libx11-6

X11 client-side library

dep:

libxext6

X11 miscellaneous extension library

dep:

plasma-widgets-workspace (= 4:4.11.13-1)

plasma widgets and containments for the KDE Plasma Workspace
rec:

kde-workspace

Paketti ei saatavilla
Imuroi plasma-netbook
Imurointi kaikille saataville arkkitehtuureille

| Arkkitehtuuri | Paketin koko | Koko asennettuna | Tiedostot |
| --- | --- | --- | --- |
| arm64 (epävirallinen siirros) | 207.6 kt | 1,014.0 kt | [tiedostoluettelo] |