Paketti: munipack-gui (0.5.11-2 ja muut)
Links for munipack-gui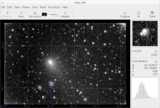 Debian-palvelut:
Imuroi lähdekoodipaketti munipack:
Ylläpitäjät:
External Resources:
Samankaltaisia paketteja:
Graphical user interface of Munipack
Munipack is a general astronomical photometry software package. Currently implements functions for standard photometry processing (photometry reductions - dark, flat), aperture photometry, astrometry and photometry calibration, accessing Virtual observatory, etc.
This package provides "xmunipack" command which offers graphical user interface for Munipack.
Muut pakettiin munipack-gui liittyvät paketit
sug:

rawtran

RAW photo to FITS converter
Imuroi munipack-gui
Imurointi kaikille saataville arkkitehtuureille

| Arkkitehtuuri | Versio | Paketin koko | Koko asennettuna | Tiedostot |
| --- | --- | --- | --- | --- |
| alpha (epävirallinen siirros) | 0.5.11-2 | 837.2 kt | 3,143.0 kt | [tiedostoluettelo] |
| amd64 | 0.5.11-2 | 882.5 kt | 2,727.0 kt | [tiedostoluettelo] |
| arm64 | 0.5.11-2 | 789.3 kt | 2,543.0 kt | [tiedostoluettelo] |
| armel | 0.5.11-2 | 760.3 kt | 2,090.0 kt | [tiedostoluettelo] |
| armhf | 0.5.11-2 | 783.5 kt | 1,662.0 kt | [tiedostoluettelo] |
| hppa (epävirallinen siirros) | 0.5.11-2 | 807.0 kt | 2,365.0 kt | [tiedostoluettelo] |
| i386 | 0.5.11-2 | 917.8 kt | 2,530.0 kt | [tiedostoluettelo] |
| m68k (epävirallinen siirros) | 0.5.11-2 | 869.8 kt | 2,538.0 kt | [tiedostoluettelo] |
| mips | 0.5.11-2 | 765.3 kt | 2,879.0 kt | [tiedostoluettelo] |
| mips64el | 0.5.11-2 | 772.3 kt | 3,402.0 kt | [tiedostoluettelo] |
| mipsel | 0.5.11-2 | 776.6 kt | 2,879.0 kt | [tiedostoluettelo] |
| powerpcspe (epävirallinen siirros) | 0.5.10-2+b1 | 795.2 kt | 2,498.0 kt | [tiedostoluettelo] |
| ppc64 (epävirallinen siirros) | 0.5.11-2 | 855.9 kt | 3,331.0 kt | [tiedostoluettelo] |
| ppc64el | 0.5.11-2 | 860.3 kt | 3,075.0 kt | [tiedostoluettelo] |
| riscv64 (epävirallinen siirros) | 0.5.11-2 | 830.1 kt | 2,287.0 kt | [tiedostoluettelo] |
| s390x | 0.5.11-2 | 789.6 kt | 2,659.0 kt | [tiedostoluettelo] |
| sh4 (epävirallinen siirros) | 0.5.10-2+b1 | 989.9 kt | 2,364.0 kt | [tiedostoluettelo] |
| sparc64 (epävirallinen siirros) | 0.5.11-2 | 730.4 kt | 2,572.0 kt | [tiedostoluettelo] |
| x32 (epävirallinen siirros) | 0.5.11-2 | 888.5 kt | 2,350.0 kt | [tiedostoluettelo] |