Paketti: iftop (1.0~pre4-6)
Links for iftop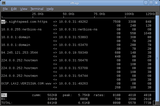 Debian-palvelut:
Imuroi lähdekoodipaketti iftop:
Ylläpitäjä:
External Resources:
Samankaltaisia paketteja:
displays bandwidth usage information on an network interface
iftop does for network usage what top(1) does for CPU usage. It listens to network traffic on a named interface and displays a table of current bandwidth usage by pairs of hosts. Handy for answering the question "Why is my Internet link so slow?".
Muut pakettiin iftop liittyvät paketit