Paketti: ginkgocadx (3.8.8-1 ja muut)
Links for ginkgocadx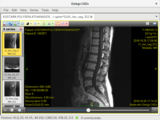 Debian-palvelut:
Imuroi lähdekoodipaketti ginkgocadx:
Ylläpitäjät:
External Resources:
Samankaltaisia paketteja:
Medical Imaging Software and complete DICOM Viewer
Ginkgo CADx provides a complete DICOM viewer solution with advanced capabilities and support for extensions.

 * Easy and customizable interface through profiles.
 * Full featured DICOM image visualization.
 * Complete tool set (measure, markers, text, ...).
 * Multiple modalities support (Neurological, Radiological, Dermatological,
   Ophthalmological, Ultrasound, Endoscopy, ...)
 * Dicomization support from JPEG, PNG, GIF and TIFF.
 * Full EMH integration support: HL7 standard and IHE compliant workflows.
 * PACS Workstation (C-FIND, C-MOVE, C-STORE...)
 * Extensible through custom extensions.
   - Retinal image mosaic composition.
   - Automatic retinal analysis diagnostics.
   - Psoriasis automatic diagnostics.

Muut pakettiin ginkgocadx liittyvät paketit
dep:

libc6.1 (>= 2.15) [alpha]

GNU-C-kirjasto: jaetut kirjastot
myös näennäispaketti, jonka toteuttaa libc6.1-udeb

dep:

libcairo2 (>= 1.2.4)

Cairo 2D vector graphics library

dep:

libcurl3-gnutls (>= 7.16.2)

easy-to-use client-side URL transfer library (GnuTLS flavour)

dep:

libdcmtk14 [amd64, i386]

OFFIS DICOM toolkit runtime libraries

dep:

libdcmtk2 (>= 3.6.0) [ei amd64, i386]

OFFIS DICOM toolkit runtime libraries

dep:

libgcc1 (>= 1:3.0) [amd64]

GCC:n apukirjasto

dep:

libgcc1 (>= 1:4.1.1) [alpha, ppc64]

dep:

libgcc1 (>= 1:4.2) [i386]

dep:

libgcc4 (>= 4.1.1) [hppa]

GCC:n apukirjasto

dep:

libgl1 [amd64, i386]

Vendor neutral GL dispatch library -- legacy GL support
myös näennäispaketti, jonka toteuttaa libgl1-mesa-glx, libgl1-mesa-swx11

dep:

libgl1-mesa-glx [ei amd64, i386]

transitional dummy package

tai libgl1

Vendor neutral GL dispatch library -- legacy GL support
myös näennäispaketti, jonka toteuttaa libgl1-mesa-glx, libgl1-mesa-swx11

dep:

libglib2.0-0 (>= 2.12.0) [ppc64]

GLib library of C routines

dep:

libgtk2.0-0 (>= 2.24.0)

GTK+ graphical user interface library

dep:

libinsighttoolkit3.20 [ei amd64, i386]

Paketti ei saatavilla

dep:

libinsighttoolkit4.12 (>= 4.12.0-dfsg1-2~) [amd64, i386]

Image processing toolkit for registration and segmentation - runtime

dep:

libjsoncpp0 [ei amd64, i386]

Library for reading and writing JSON for C++

dep:

libjsoncpp1 (>= 1.7.4) [amd64, i386]

library for reading and writing JSON for C++

dep:

libsqlite3-0 (>= 3.7.6.1)

SQLite 3 (jaettu kirjasto)

dep:

libssl1.0.0 (>= 1.0.0) [ei amd64, i386]

Secure Sockets Layer -työkalupakki - jaetut kirjastot

dep:

libssl1.1 (>= 1.1.0) [amd64, i386]

Secure Sockets Layer -työkalupakki - jaetut kirjastot

dep:

libstdc++6 (>= 4.6) [ppc64]

GNU standardi C++ -kirjasto, versio 3

dep:

libstdc++6 (>= 4.9) [alpha, hppa]

dep:

libstdc++6 (>= 5.2) [amd64, i386]

dep:

libvtk5.8 [ei amd64, i386]

Visualization Toolkit - A high level 3D visualization library - runtime

dep:

libvtk6.3 [amd64, i386]

VTK libraries

dep:

libwxbase2.8-0 (>= 2.8.12.1+dfsg) [ppc64]

wxBase library (runtime) - non-GUI support classes of wxWidgets toolkit

dep:

libwxbase3.0-0 (>= 3.0.1) [alpha, hppa]

wxBase library (runtime) - non-GUI support classes of wxWidgets toolkit

dep:

libwxbase3.0-0v5 (>= 3.0.4+dfsg) [amd64, i386]

wxBase library (runtime) - non-GUI support classes of wxWidgets toolkit

dep:

libwxgtk2.8-0 (>= 2.8.12.1+dfsg) [ppc64]

wxWidgets Cross-platform C++ GUI toolkit (GTK+ runtime)

dep:

libwxgtk3.0-0 (>= 3.0.1) [alpha, hppa]

wxWidgets Cross-platform C++ GUI toolkit (GTK+ runtime)

dep:

libwxgtk3.0-0v5 (>= 3.0.4+dfsg) [amd64, i386]

wxWidgets Cross-platform C++ GUI toolkit (GTK+ runtime)
Imuroi ginkgocadx
Imurointi kaikille saataville arkkitehtuureille

| Arkkitehtuuri | Versio | Paketin koko | Koko asennettuna | Tiedostot |
| --- | --- | --- | --- | --- |
| alpha (epävirallinen siirros) | 3.7.0.1465.37+dfsg-1 | 3,657.3 kt | 17,483.0 kt | [tiedostoluettelo] |
| amd64 | 3.8.8-1 | 3,283.3 kt | 14,698.0 kt | [tiedostoluettelo] |
| hppa (epävirallinen siirros) | 3.7.0.1465.37+dfsg-1 | 3,735.5 kt | 16,313.0 kt | [tiedostoluettelo] |
| i386 | 3.8.8-1 | 3,434.4 kt | 14,292.0 kt | [tiedostoluettelo] |
| ppc64 (epävirallinen siirros) | 3.6.0.1228.33+dfsg-1 | 3,092.7 kt | 15,587.0 kt | [tiedostoluettelo] |