Paketti: corsix-th (0.62-1 ja muut) [contrib]
Links for corsix-th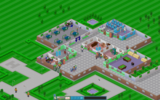 Debian-palvelut:
Imuroi lähdekoodipaketti corsix-th:
Ylläpitäjät:
External Resources:
Samankaltaisia paketteja:
Open source clone of Theme Hospital
Theme Hospital was a simulation computer game developed by Bullfrog Productions and published by Electronic Arts in 1997, in which the player designs and operates a hospital.
The game currently requires the original graphics and tries to mimic the original as closely as possible. Therefore you will need a copy of the original game for this package to be useful.
Muut pakettiin corsix-th liittyvät paketit
dep:

corsix-th-data (= 0.60-2) [kfreebsd-i386]

Open source clone of Theme Hospital (data package)

dep:

corsix-th-data (= 0.62-1) [ei kfreebsd-i386]

dep:

libavcodec57 (>= 7:3.2) [kfreebsd-i386]

Paketti ei saatavilla

tai libavcodec-extra57 (>= 7:3.2)

Paketti ei saatavilla

dep:

libavcodec58 (>= 7:4.0) [ei kfreebsd-i386]

FFmpeg library with de/encoders for audio/video codecs - runtime files

tai libavcodec-extra58 (>= 7:4.0)

FFmpeg library with additional de/encoders for audio/video codecs

dep:

libavformat57 (>= 7:3.2) [kfreebsd-i386]

Paketti ei saatavilla

dep:

libavformat58 (>= 7:4.0) [ei kfreebsd-i386]

FFmpeg library with (de)muxers for multimedia containers - runtime files

dep:

libavutil55 (>= 7:3.2) [kfreebsd-i386]

Paketti ei saatavilla

dep:

libavutil56 (>= 7:4.0) [ei kfreebsd-i386]

FFmpeg library with functions for simplifying programming - runtime files

dep:

libc0.1 (>= 2.17-91) [kfreebsd-amd64, kfreebsd-i386]

GNU-C-kirjasto: jaetut kirjastot
myös näennäispaketti, jonka toteuttaa libc0.1-udeb

dep:

libc0.3 (>= 2.12) [hurd-i386]

GNU-C-kirjasto: jaetut kirjastot
myös näennäispaketti, jonka toteuttaa libc0.3-udeb

dep:

libc6 (>= 2.14) [amd64]

GNU-C-kirjasto: jaetut kirjastot
myös näennäispaketti, jonka toteuttaa libc6-udeb

dep:

libc6 (>= 2.17) [arm64, ppc64el]

dep:

libc6 (>= 2.4) [ei amd64, arm64, hurd-i386, kfreebsd-amd64, kfreebsd-i386, ppc64el]

dep:

libfreetype6 (>= 2.2.1)

FreeType 2 font engine, shared library files

dep:

libgcc1 (>= 1:3.0) [amd64, arm64, kfreebsd-amd64, mips64el, ppc64el, s390x]

GCC:n apukirjasto

dep:

libgcc1 (>= 1:3.5) [armel, armhf]

dep:

libgcc1 (>= 1:4.2) [hurd-i386, i386, kfreebsd-i386, mips, mipsel]

dep:

liblua5.2-0

Shared library for the Lua interpreter version 5.2

dep:

libsdl2-2.0-0 (>= 2.0.4) [kfreebsd-i386]

Simple DirectMedia Layer

dep:

libsdl2-2.0-0 (>= 2.0.8) [ei kfreebsd-i386]

dep:

libsdl2-mixer-2.0-0 (>= 2.0.1) [kfreebsd-i386]

Mixer library for Simple DirectMedia Layer 2, libraries

dep:

libsdl2-mixer-2.0-0 (>= 2.0.2) [ei kfreebsd-i386]

dep:

libstdc++6 (>= 5.2) [kfreebsd-i386]

GNU standardi C++ -kirjasto, versio 3

dep:

libstdc++6 (>= 6) [ei hurd-i386, kfreebsd-i386]

dep:

libstdc++6 (>= 8.2.0-3) [hurd-i386]

dep:

libswresample2 (>= 7:3.2) [kfreebsd-i386]

Paketti ei saatavilla

dep:

libswresample3 (>= 7:4.0) [ei kfreebsd-i386]

FFmpeg library for audio resampling, rematrixing etc. - runtime files

dep:

libswscale4 (>= 7:3.2) [kfreebsd-i386]

Paketti ei saatavilla

dep:

libswscale5 (>= 7:4.0) [ei kfreebsd-i386]

FFmpeg library for image scaling and various conversions - runtime files

dep:

lua-filesystem

luafilesystem library for the Lua language

dep:

lua-lpeg

LPeg library for the Lua language
rec:

theme-hospital-data

Paketti ei saatavilla

tai theme-hospital-demo-data

Paketti ei saatavilla
Installer for game data files

rec:

timidity [ei kfreebsd-i386]

Software sound renderer (MIDI sequencer, MOD player)