Paketti: timeshift (19.01+ds-2)
Links for timeshift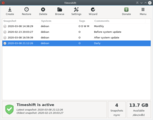 Debian-palvelut:
Imuroi lähdekoodipaketti timeshift:
Ylläpitäjä:
External Resources:
Samankaltaisia paketteja:
System restore utility
Timeshift is a system restore utility which takes snapshots of the system at regular intervals. These snapshots can be restored at a later date to undo system changes. Creates incremental snapshots using rsync or BTRFS snapshots using BTRFS tools.
Muut pakettiin timeshift liittyvät paketit
Imuroi timeshift
Imurointi kaikille saataville arkkitehtuureille

| Arkkitehtuuri | Paketin koko | Koko asennettuna | Tiedostot |
| --- | --- | --- | --- |
| armhf | 573.0 kt | 2,594.0 kt | [tiedostoluettelo] |