Paketti: fd-find (7.3.0-3)
Links for fd-find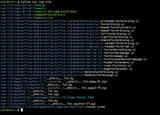 Debian-palvelut:
Imuroi lähdekoodipaketti rust-fd-find:
Ylläpitäjät:
External Resources:
Samankaltaisia paketteja:
Simple, fast and user-friendly alternative to find
While it does not seek to mirror all of find's powerful functionality, fd provides sensible (opinionated) defaults for 80% of the use cases.
Features:

 * Convenient syntax: 'fd PATTERN' instead of 'find -iname '*PATTERN*''.
 * Colorized terminal output (similar to ls).
 * It's fast, often faster than find.
 * Smart case.
 * Ignores hidden directories and files, by default.
 * Ignores patterns from your .gitignore, by default.
 * Regular expressions.
 * Unicode-awareness.
 * Parallel command execution with a syntax similar to GNU Parallel.


 Please note: the executable and the associated manpage were renamed
 from 'fd' to 'fdfind' because of a file name clash.

This package contains the following binaries built from the Rust crate "fd-find":

 - fd

Muut pakettiin fd-find liittyvät paketit
dep:

libc6 (>= 2.28)

GNU-C-kirjasto: jaetut kirjastot
myös näennäispaketti, jonka toteuttaa libc6-udeb

dep:

libgcc1 (>= 1:4.3)

GCC:n apukirjasto
Imuroi fd-find
Imurointi kaikille saataville arkkitehtuureille

| Arkkitehtuuri | Paketin koko | Koko asennettuna | Tiedostot |
| --- | --- | --- | --- |
| armhf | 570.6 kt | 1,873.0 kt | [tiedostoluettelo] |