Paketti: simpleid (0.8.1-15)
Links for simpleid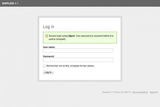 Debian-palvelut:
Imuroi lähdekoodipaketti simpleid:
Ylläpitäjät:
External Resources:
Samankaltaisia paketteja:
simple OpenID provider implemented in PHP
SimpleID is a simple, personal OpenID provider written in PHP. OpenID is a way to provide for a single digital identity across the Internet. To get an OpenID you need to sign up to an OpenID provider, who acts as the "custodian" of your digital identity. Every time you want to log into an OpenID-enabled web site, you will be redirected to your OpenID provider, who will then verify your identity and provide this to the web site.
Muut pakettiin simpleid liittyvät paketit
dep:

dpkg (>= 1.15.7.2)

Debian-paketinhallintajärjestelmä
rec:

apache2 (>= 2.4.20~)

Apache HTTP Server

tai lighttpd

fast webserver with minimal memory footprint

tai httpd

näennäispaketti, jonka toteuttaa aolserver4-core, aolserver4-daemon, apache2, apache2-mpm-event, apache2-mpm-itk, apache2-mpm-prefork, apache2-mpm-worker, bozohttpd, ebhttpd, lighttpd, micro-httpd, mini-httpd, nginx-extras, nginx-full, nginx-light, ocsigenserver, tntnet, webfs, yaws
Imuroi simpleid
Imurointi kaikille saataville arkkitehtuureille

| Arkkitehtuuri | Paketin koko | Koko asennettuna | Tiedostot |
| --- | --- | --- | --- |
| all | 75.2 kt | 436.0 kt | [tiedostoluettelo] |