Paketti: zanshin (0.5.0-2)
Links for zanshin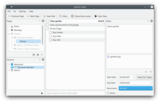 Debian-palvelut:
Imuroi lähdekoodipaketti zanshin:
Ylläpitäjät:
External Resources:
Samankaltaisia paketteja:
to-do list manager
Zanshin is a powerful yet simple application for managing your day to day actions and notes. It helps you organize and reduce the cognitive pressure of what one has to do in one's job and personal life. You'll never forget anything anymore, having a "mind like water".
Muut pakettiin zanshin liittyvät paketit
Imuroi zanshin
Imurointi kaikille saataville arkkitehtuureille

| Arkkitehtuuri | Paketin koko | Koko asennettuna | Tiedostot |
| --- | --- | --- | --- |
| arm64 | 1,077.4 kt | 9,466.0 kt | [tiedostoluettelo] |