Paketti: plasma-widget-folderview (4:4.14.0-1) [debports]
Links for plasma-widget-folderview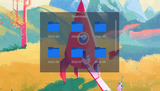 Debian-palvelut:
Imuroi lähdekoodipaketti :
Ei löytynyt
Ylläpitäjät:
External Resources:
Samankaltaisia paketteja:
plasma widget showing the content of a folder
This package contains the Folder View Plasma widget which is capable of displaying and managing contents of any KDE supported location. It can be used as a replacement for the traditional "desktop" folder concept in the main Plasma shell, but it is a lot more flexible. Folder View is part of the initial default KDE 4 desktop configuration.
This package is part of the KDE base applications module.
Muut pakettiin plasma-widget-folderview liittyvät paketit
Imuroi plasma-widget-folderview
Imurointi kaikille saataville arkkitehtuureille

| Arkkitehtuuri | Paketin koko | Koko asennettuna | Tiedostot |
| --- | --- | --- | --- |
| arm64 (epävirallinen siirros) | 140.3 kt | 581.0 kt | [tiedostoluettelo] |