Paketti: kfilereplace (4:4.14.1-1) [debports]
Links for kfilereplace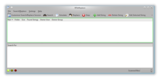 Debian-palvelut:
Imuroi lähdekoodipaketti :
Ei löytynyt
Ylläpitäjät:
External Resources:
Samankaltaisia paketteja:
batch search-and-replace component
KFileReplace is an embedded component for KDE that acts as a batch search-and-replace tool. It allows you to replace one expression with another in many files at once.
This package is part of KDE web development module.
Muut pakettiin kfilereplace liittyvät paketit
Imuroi kfilereplace
Imurointi kaikille saataville arkkitehtuureille

| Arkkitehtuuri | Paketin koko | Koko asennettuna | Tiedostot |
| --- | --- | --- | --- |
| arm64 (epävirallinen siirros) | 415.7 kt | 858.0 kt | [tiedostoluettelo] |