Paketti: clips (6.30-4 ja muut)
Links for clips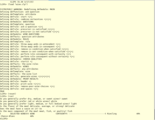 Debian-palvelut:
Imuroi lähdekoodipaketti clips:
Ylläpitäjä:
External Resources:
Samankaltaisia paketteja:
"C" Language Integrated Production System
CLIPS is an OPS-like forward chaining production system written in ANSI C by NASA. The CLIPS inference engine includes truth maintenance, dynamic rule addition, and customizable conflict resolution strategies.
CLIPS, including the runtime version, is easily embeddable in other applications. CLIPS includes an object-oriented language called COOL (CLIPS Object-Oriented Language) which is directly integrated with the inference engine.
Muut pakettiin clips liittyvät paketit
sug:

clips-doc

"C" Language Integrated Production System Documentation
Imuroi clips
Imurointi kaikille saataville arkkitehtuureille

| Arkkitehtuuri | Versio | Paketin koko | Koko asennettuna | Tiedostot |
| --- | --- | --- | --- | --- |
| arm64 | 6.30-4+b1 | 21.9 kt | 54.0 kt | [tiedostoluettelo] |