Paketti: dwb (20140702hg-1) [debports]
Links for dwb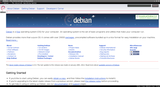 Debian-palvelut:
Imuroi lähdekoodipaketti :
Ei löytynyt
Ylläpitäjät:
External Resources:
Samankaltaisia paketteja:
lightweight WebKit browser
Highly customizable browser that can be easily configured through a web interface. Intends to be mostly keyboard driven.
Features:

 - vi like shortcuts
 - Link followed by keyboard hints
 - Bookmarks
 - Quickmarks
 - Cookie support
 - Proxy support
 - Userscript support
 - Tab completion for history, bookmarks, userscripts
 - Custom CSS Stylesheets
 - Tiling layouts
 - and more...

Muut pakettiin dwb liittyvät paketit
Imuroi dwb
Imurointi kaikille saataville arkkitehtuureille

| Arkkitehtuuri | Paketin koko | Koko asennettuna | Tiedostot |
| --- | --- | --- | --- |
| arm64 (epävirallinen siirros) | 264.6 kt | 1,289.0 kt | [tiedostoluettelo] |