Paketti: xscreensaver-screensaver-dizzy (0.3-2)
Links for xscreensaver-screensaver-dizzy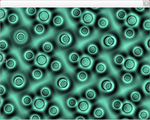 Debian-palvelut:
Imuroi lähdekoodipaketti dizzy:
Ylläpitäjät:
External Resources:
Samankaltaisia paketteja:
Graphics demo that makes you dizzy (XScreenSaver hack)
dizzy is a graphics demo that rotates planes of patterns on a colored background to make you dizzy. Textures can be cross-faded and there is a mode that automatically changes textures, allowing dizzy to be run as a screensaver.
This package integrates dizzy with XScreenSaver, but it cannot be done automatically. See /usr/share/doc/xscreensaver-screensaver-dizzy/README.Debian for details on the configuration.
Muut pakettiin xscreensaver-screensaver-dizzy liittyvät paketit
dep:

dizzy (= 0.3-2)

Graphics demo that makes you dizzy using rotating textures

Perl module for writing OpenGL-based XScreenSaver hacks

dep:

perl

Larry Wallin kieli tekstitiedostojen analysointia ja raportointia varten
Imuroi xscreensaver-screensaver-dizzy
Imurointi kaikille saataville arkkitehtuureille

| Arkkitehtuuri | Paketin koko | Koko asennettuna | Tiedostot |
| --- | --- | --- | --- |
| all | 5.7 kt | 8.0 kt | [tiedostoluettelo] |