Paketti: xarchiver (1:0.5.4-1+deb8u2)
Links for xarchiver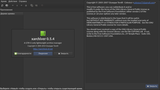 Debian-palvelut:
Imuroi lähdekoodipaketti xarchiver:
Ylläpitäjä:
External Resources:
Samankaltaisia paketteja:
GTK+ frontend for most used compression formats
Xarchiver is a lightweight desktop independent GTK+ frontend for manipulating xz, 7z, arj, bzip2, gzip, rar, tar, zip, rpm and deb files. It allows you to create archives and add, extract, and delete files from them. Password protected archives in the arj, 7z, rar and zip formats are supported.
Muut pakettiin xarchiver liittyvät paketit