Paketti: phalanx (22+d051004-13.1)
Links for phalanx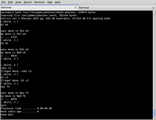 Debian-palvelut:
Imuroi lähdekoodipaketti phalanx:
Ylläpitäjä:
External Resources:
Samankaltaisia paketteja:
Chess playing program
Phalanx is a simple chess playing program of conventional design. It is xboard compatible. The main aim is to write a slow thinker with a lot of chess specific knowledge. Current version plays risky, active chess and shows quite good tactical performance.
Muut pakettiin phalanx liittyvät paketit
sug:

xboard

X Window System Chess Board
näennäispaketti, jonka toteuttaa aterm, aterm-ml, eterm, evilvte, gnome-terminal, guake, konsole, kterm, lilyterm, lxterminal, mate-terminal, mlterm, mlterm-tiny, mrxvt, mrxvt-cjk, mrxvt-mini, pterm, roxterm-gtk2, roxterm-gtk3, rxvt, rxvt-ml, rxvt-unicode, rxvt-unicode-256color, rxvt-unicode-lite, sakura, stterm, terminal.app, terminator, terminology, termit, vala-terminal, xfce4-terminal, xiterm+thai, xterm, xvt
enh:

eboard

GTK+ chessboard program

enh:

emacs-chess

Paketti ei saatavilla

enh:

gnome-chess

Shakkipeli 3D-grafiikoilla

enh:

scid

chess database with play and training functionality

enh:

xboard

X Window System Chess Board