Paketti: mp3wrap (0.5-3)
Links for mp3wrap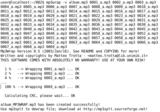 Debian-palvelut:
Imuroi lähdekoodipaketti mp3wrap:
Ylläpitäjä:
External Resources:
Samankaltaisia paketteja:
Utility for MP3 wrapping (rolling multiple MP3s into one)
Command-line utility that wraps multiple MP3 files into a single, playable MP3, without losing filenames or ID3 information, and without reencoding. Also supports archiving non-audio data such as playlists, info files, and cover images inside the MP3. These files can be unpacked later (using mp3splt, e.g.); ordinary MP3 decoders can play the entire audio stream as one long track.
This is a free, independent alternative to AlbumWrap: http://www.infamus.com/albumwrap/
Muut pakettiin mp3wrap liittyvät paketit
dep:

libc6 (>= 2.4) [armhf]

GNU-C-kirjasto: jaetut kirjastot
myös näennäispaketti, jonka toteuttaa libc6-udeb

dep:

libc6 (>= 2.7-1) [ei armhf]
rec:

mp3splt

command line interface to split MP3 and Ogg Vorbis files without reencoding