Paketti: sauerbraten (0.0.20140302-1) [non-free]
Links for sauerbraten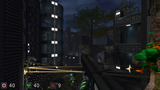 Debian-palvelut:
Imuroi lähdekoodipaketti sauerbraten:
Ylläpitäjät:
External Resources:
Samankaltaisia paketteja:
3D first-person shooter game
Sauerbraten is a networked 3D first-person shooter game. It supports modern graphic effects and conveys a sense of fast-paced oldschool gameplay.
The game client also works as the map editor. It is even possible to create and edit a map together with other people over a network connection.
This package installs maps, textures, sounds and other artwork of Sauerbraten.
Muut pakettiin sauerbraten liittyvät paketit
dep:

cube2

3D first-person shooter game engine
Imuroi sauerbraten
Imurointi kaikille saataville arkkitehtuureille

| Arkkitehtuuri | Paketin koko | Koko asennettuna | Tiedostot |
| --- | --- | --- | --- |
| all | 552,238.9 kt | 637,109.0 kt | [tiedostoluettelo] |