Paketti: gtk2-engines-wonderland (1.0-10)
Links for gtk2-engines-wonderland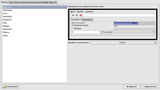 Debian-palvelut:
Ylläpitäjä:
External Resources:
Samankaltaisia paketteja:
Wonderland theme for GTK+-2.0
Original Bluecurve engine from Red Hat's artwork package.
This package is based on the Wonderland theme available from http://art.gnome.org/ for GTK+-2.0. This theme is not available for GTK-1.2 at the same location and thus is not provided by this package.
Muut pakettiin gtk2-engines-wonderland liittyvät paketit
Imuroi gtk2-engines-wonderland