Paketti: xtitle (1.0.2-6)
Links for xtitle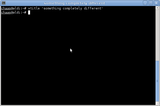 Debian-palvelut:
Imuroi lähdekoodipaketti xtitle:
Ylläpitäjä:
External Resources:
Samankaltaisia paketteja:
set window title and icon name for X terminal
Xtitle sets the window title and/or the icon name of the terminal window in which it is run to be its command line arguments. It does this by outputting the appropriate xterm(1) control sequence charac- ters. Unless messages are suppressed, xtitle will also report the settings it has made.
Note: In order ro be able to change the terminal's title, the terminal must support ANSI escape codes.
Muut pakettiin xtitle liittyvät paketit
dep:

xterm

X-pääte-emulaattori
näennäispaketti, jonka toteuttaa aterm, aterm-ml, eterm, evilvte, gnome-terminal, guake, konsole, kterm, lilyterm, lxterminal, mate-terminal, mlterm, mlterm-tiny, mrxvt, mrxvt-cjk, mrxvt-mini, pterm, roxterm-gtk2, roxterm-gtk3, rxvt, rxvt-ml, rxvt-unicode, rxvt-unicode-256color, rxvt-unicode-lite, sakura, stterm, terminal.app, terminator, terminology, termit, vala-terminal, xfce4-terminal, xiterm+thai, xterm, xvt
Imuroi xtitle
Imurointi kaikille saataville arkkitehtuureille

| Arkkitehtuuri | Paketin koko | Koko asennettuna | Tiedostot |
| --- | --- | --- | --- |
| all | 6.0 kt | 45.0 kt | [tiedostoluettelo] |