Paketti: x86dis (0.23-6)
Links for x86dis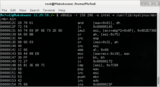 Debian-palvelut:
Imuroi lähdekoodipaketti libdisasm:
Ylläpitäjä:
External Resources:
Samankaltaisia paketteja:
Frontend to libdisasm
Libdisasm is a disassembler for Intel x86-compatible object code. It compiles as a shared and static library on Linux, FreeBSD, and Win32 platforms. The core disassembly engine is contained in files with the prefix "i386", and is shared with the x86 ARCH extension of the bastard disassembler.
This package contains the x86dis command-line frontend.
Muut pakettiin x86dis liittyvät paketit
dep:

libc6 (>= 2.7)

GNU-C-kirjasto: jaetut kirjastot
myös näennäispaketti, jonka toteuttaa libc6-udeb

dep:

libdisasm0 (>= 0.23)

disassembler library for x86 code
Imuroi x86dis
Imurointi kaikille saataville arkkitehtuureille

| Arkkitehtuuri | Paketin koko | Koko asennettuna | Tiedostot |
| --- | --- | --- | --- |
| amd64 | 12.4 kt | 64.0 kt | [tiedostoluettelo] |