Paketti: note (1.3.7-1)
Links for note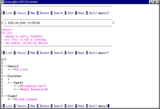 Debian-palvelut:
Imuroi lähdekoodipaketti note:
Ylläpitäjä:
External Resources:
Samankaltaisia paketteja:
small program managing notes from commandline
This is a small console program similar to knotes, which allows you to manage notes from commandline. Note can use different database-backends for notes-storage. It ships with a DBI-based mysql-module (which can also be used by others through a DBI-based supported DBMS) and another module, which uses a binary file for storage and a DBM module.
Muut pakettiin note liittyvät paketit
dep:

perl

Larry Wallin kieli tekstitiedostojen analysointia ja raportointia varten
Imuroi note
Imurointi kaikille saataville arkkitehtuureille

| Arkkitehtuuri | Paketin koko | Koko asennettuna | Tiedostot |
| --- | --- | --- | --- |
| all | 74.2 kt | 268.0 kt | [tiedostoluettelo] |