Paketti: catfish (1.2.2-1)
Links for catfish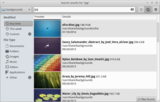 Debian-palvelut:
Imuroi lähdekoodipaketti catfish:
Ylläpitäjät:
External Resources:
Samankaltaisia paketteja:
File searching tool which is configurable via the command line
Catfish is a handy file searching tool for Linux and UNIX. The interface is intentionally lightweight and simple, using only Gtk+3. You can configure it to your needs by using several command line options.
Muut pakettiin catfish liittyvät paketit
Imuroi catfish
Imurointi kaikille saataville arkkitehtuureille

| Arkkitehtuuri | Paketin koko | Koko asennettuna | Tiedostot |
| --- | --- | --- | --- |
| all | 82.0 kt | 485.0 kt | [tiedostoluettelo] |