Paketti: tango-test (8.1.2c+dfsg-5)
Links for tango-test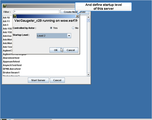 Debian-palvelut:
Imuroi lähdekoodipaketti tango:
Ylläpitäjät:
External Resources:
Samankaltaisia paketteja:
TANGO distributed control system - test device
TANGO is an object oriented distributed control system. It allows communication between TANGO device processes running on the same computer or distributed over the network. These processes can provide services to the control system all over the network, such as hardware control or data processing.
This package provides a TANGO device which implements all TANGO attribute types, and can be used for testing the installation.
Muut pakettiin tango-test liittyvät paketit
Imuroi tango-test
Imurointi kaikille saataville arkkitehtuureille

| Arkkitehtuuri | Paketin koko | Koko asennettuna | Tiedostot |
| --- | --- | --- | --- |
| amd64 | 55.6 kt | 307.0 kt | [tiedostoluettelo] |