Paketti: imagemagick (8:6.9.12.20+dfsg1-1.2) [debports]
Links for imagemagick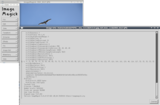 Debian-palvelut:
Imuroi lähdekoodipaketti :
Ei löytynyt
Ylläpitäjät:
External Resources:
Samankaltaisia paketteja:
Kokeellinen paketti
Varoitus: Tämä paketti on kokeellisesta jakelusta. Tämä tarkoittaa, että se on luultavasti epävakaa tai buginen, ja voi aiheuttaa jopa tiedonhäviötä. Kannattaa ehdottomasti tutustua muutoslokiin ja muihin mahdollisiin ohjeisiin ennen käyttöönottoa.
image manipulation programs -- binaries
ImageMagick is a software suite to create, edit, and compose bitmap images. It can read, convert and write images in a variety of formats (over 100) including DPX, EXR, GIF, JPEG, JPEG-2000, PDF, PhotoCD, PNG, Postscript, SVG, and TIFF. Use ImageMagick to translate, flip, mirror, rotate, scale, shear and transform images, adjust image colors, apply various special effects, or draw text, lines, polygons, ellipses and Bézier curves. All manipulations can be achieved through shell commands as well as through an X11 graphical interface (display).
This package include links to channel depth specific binaries and manual pages.
This is a dummy package. You can safely purge or remove it.
Paketit, jotka toteuttavat paketin imagemagick
image manipulation programs -- quantum depth Q16
Muut pakettiin imagemagick liittyvät paketit
dep:

imagemagick-6.q16 (>= 8:6.9.2.10+dfsg-2~)

image manipulation programs -- quantum depth Q16
Imuroi imagemagick
Imurointi kaikille saataville arkkitehtuureille

| Arkkitehtuuri | Paketin koko | Koko asennettuna | Tiedostot |
| --- | --- | --- | --- |
| sh4 (epävirallinen siirros) | 164.3 kt | 218.0 kt | [tiedostoluettelo] |