Paketti: freedink (1.08.20121209-1)
Links for freedink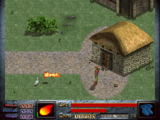 Debian-palvelut:
Imuroi lähdekoodipaketti freedink:
Ylläpitäjät:
External Resources:
Samankaltaisia paketteja:
Kokeellinen paketti
Varoitus: Tämä paketti on kokeellisesta jakelusta. Tämä tarkoittaa, että se on luultavasti epävakaa tai buginen, ja voi aiheuttaa jopa tiedonhäviötä. Kannattaa ehdottomasti tutustua muutoslokiin ja muihin mahdollisiin ohjeisiin ennen käyttöönottoa.
adventure and role-playing game
Dink Smallwood is an adventure/role-playing game, similar to Zelda, made by RTsoft. Besides twisted humour, it includes the actual game editor, allowing players to create hundreds of new adventures called Dink Modules or D-Mods for short.
GNU FreeDink is a new and portable version of the game engine, which runs the original game as well as its D-Mods, with close compatibility, under multiple platforms.
This package is a metapackage to install the game, its data and a front-end to manage game options and D-Mods.
Muut pakettiin freedink liittyvät paketit
Imuroi freedink
Imurointi kaikille saataville arkkitehtuureille

| Arkkitehtuuri | Paketin koko | Koko asennettuna | Tiedostot |
| --- | --- | --- | --- |
| all | 1.0 kt | 21.0 kt | [tiedostoluettelo] |